Some coaches, speakers, and authors give away everything. As a result, they cheapen their brand; they burn out too. Others never give away anything. They come off as greedy and stingy; they repel people too.
FREE is a tool.
It can catapult or cannibalize your business. The difference depends upon how you use it.
So what's the balance?
Are there guidelines for using FREE effectively?
In today's podcast episode I share a proven strategy to help speakers, coaches, and authors level up. (Listen to this episode via itunes, audioboom, or stitcher)
Using FREE Too Much
Many authors, coaches, and speakers struggle charging money for their products and services. Maybe they don't believe in themselves? Maybe they worry about others rejecting their prices? Regardless, giving everything away will put you out of business quickly.
Even if you could afford not charging for anything, your customers would soon devalue your products and services. An ancient saying goes:
"Where your treasure is, so is your heart."
In other words, if you don't invest any money, you'll probably never invest your heart either. Commitment follows cash. (Tweet This)
Think about your own life. Have you ever failed to read a FREE book, attend a FREE webinar, or show up at a FREE event? If so, you're not alone. When something is always FREE then it's not usually taken seriously.
Using FREE Too Little
But never using FREE is a mistake too. If you never use FREE then the barrier of entry is often too high. Some people will never sample your products or services. Brands and businesses know this.
iTunes let's your sample a song via an excerpt.
Amazon let's you sample a book via look inside feature.
Producers let you sample movie via a preview.
FREE works when it's used the right way.
My wife (Kelly) and I now love Nature Box. They give away their products to first time customers. We found a link like this and got $20 in healthy snacks. Not only was the food FREE, it was also painless process. Although I normally wouldn't order snacks online, since it was FREE Kelly gave it a try.
To this day, we're Nature Box fans. The dried peaches are my favorite and I now anticipate their arrival on our doorstep. (Go ahead and give them a try by clicking on the pic below. It's FREE.)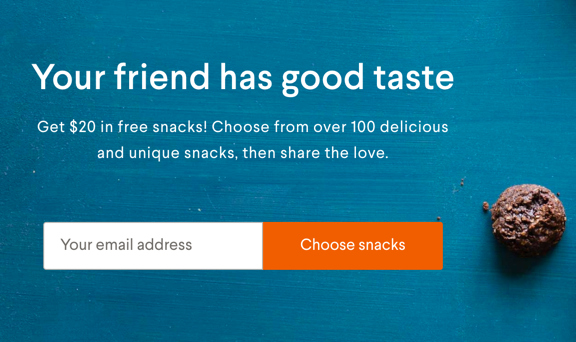 Using FREE Just Right
I've found that free done well answers these four questions:
F

:

Filter

= Who should I invest in?
R

:

Repurpose

= Where can I repurpose this content?
E

:

Expand

= Will this expand my influence?
E

:

Engage

= What is their next step to go deeper?
If you're a speaker, author, or coach you can use FREE just the right amount. I've helped hundreds of thought leaders catapult their business by using FREE the correct way. Here are a few examples:
Speakers can use FREE…
I've seen speakers use FREE effectively by creating a speaker's reel.
Potential customers can view past appearances via a one minute highlight video.
Also consider including a TV excerpt or audio sample from a podcast.
I do a FREE monthly event called the Igniting Souls Fellowship. (Check out our next one. It's FREE.)
Coaches can use FREE…
Many coaches have success by offering a FREE complimentary coaching session.
This FREE coaching session could be face-to-face or virtual via skype or Zoom.
Consider doing a 3 session FREE mastermind. This is group coaching.
I like the combo of speaking FREE and then offering a coaching package at the end.
Authors can use FREE…
Most authors already use FREE on Amazon with the Look Inside Feature.
Consider doing a FREE KDP Select campaign for your Kindle. (There are pros and cons.)
Use an excerpt from your book in an article or blog post.
Do an audiobook. It's the hottest publishing platform. Plus people can get a FREE sample.
I have something FREE for you
On October 9, 2014 I woke up in the middle of the night with an idea. I wanted to write a story that would help us see the power of our dreams and the obstacles that often prevent us from achieving them. That book—Elixir Project—took more than 2 years to research and write.
Since the release of Elixir Project a few months ago, we've been getting countless emails, messages, and letters from readers who said the story changed the way they now see the world and themselves.
I want this to be true for you too. And that's why I've personally bought you a hardcover copy of Elixir Project ($29.99 retail value). I'd like to physically mail you the book. It's FREE for you. All I ask is that you cover the shipping and handling.
==> https://elixir.karyoberbrunner.com

Each copy comes with an orange envelope containing a special tool that will help you keep your dreams from getting sidelined and sabotaged. We call it THE HACK ATTACK.
==> https://elixir.karyoberbrunner.com
In the book you'll also discover a proven model for becoming unhackable in work and life. I made you a short video that tells you more. Please click on the link below to see the video and get your FREE book.
==>https://elixir.karyoberbrunner.com
Thanks for listening. I believe in you more than you'll ever know. I can't wait for you to dive into the book and experience freedom.