A Bestseller Takes
More than Great Writing
If you're already an author or even an aspiring one, you know writing a bestseller is a BIG WIN for you and your career. But before I share more on this topic, please re-read the title of this post one more time:
==> How to Write a Bestselling Book
In my 12 plus year experience, the post should be more accurately titled:
==> How to Market a Bestselling Book
You might be thinking, OUCH! Or even YUCK! Maybe even some of the objections below are piling up in your head:
"An author's job is to write the book, not market it."
"I don't like people who self-promote."
"I'm an introvert and I don't want to be in the limelight."
"A good book shouldn't need great marketing. It should stand on it's own."
"I don't have a marketing or publicity budget."
"I don't know how to market my book."
I said all those objections and many more earlier in my career. After all, I'm not new to the game and I wrote 6 traditionally published books. But here's the dirty little secret.
Even though my books were in shelves all across the country, not much happened in those early years with: The Journey Towards Relevance, Called, or The Fine Line.
The problem is I kept depending upon my traditional publisher to sell and market my books. After all, I'm the author. My only job is to write, right? 
WRONG! 
I knew I needed to change my strategy or my writing career would be over.  So I decided to crack the code and figure out the answers. And that's exactly what I did.

A Bestseller Takes
Great Marketing Too
The results were dramatic. Everything shifted with my next 3 books: Your Secret Name, The Deeper Path, and Day Job to Dream Job.
Although I have hundreds of examples (screenshots, testimonials, videos, pics, etc.) below are just a few quick examples.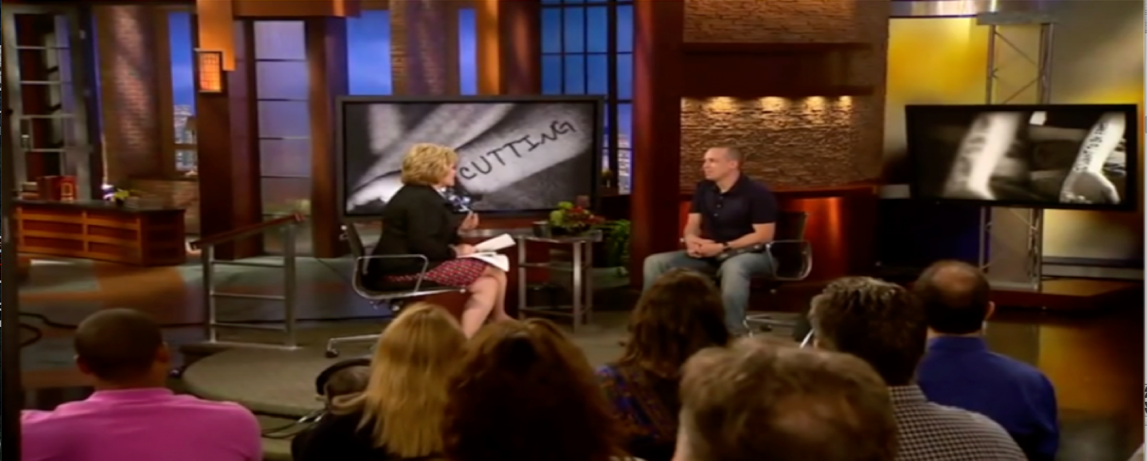 In 2010-2011 with Your Secret Name book, I did over 100 interviews on radio, TV, and podcasts including this one from the internationally syndicated show 700 Club.
I kept applying these new tips, tools, and tactics in each of my next books. In 2014, I released Day Job to Dream Job.  In it I wrote how our day jobs are like a prison and that 86% of the population feels "institutionalized" much like the inmates in The Shawshank Redemption.
I also wrote about how our dream jobs can create a place of freedom, finances, and fulfillment much like the beaches of Zihuatanejo, the place where Andy Dufresne (played by Tim Robbins) and Red (played by Morgan Freeman) experienced their epic reunion.
I literally wrote some of the book in "Shawshank Prison" in Andy's cell and broke the book down into 3 parts: Prison, Plan, Payoff. Although my book integrated with the metaphor of the movie beautifully, it was also strategic. I knew there was wisdom in identifying with the #1 movie of all time. 
My book released the same month as the 20th Anniversary of The Shawshank Redemption, August 2014. I was thrilled to be included in the main programming of the Anniversary Weekend with Hollywood celebrities and quickly became known as The Shawshank Author.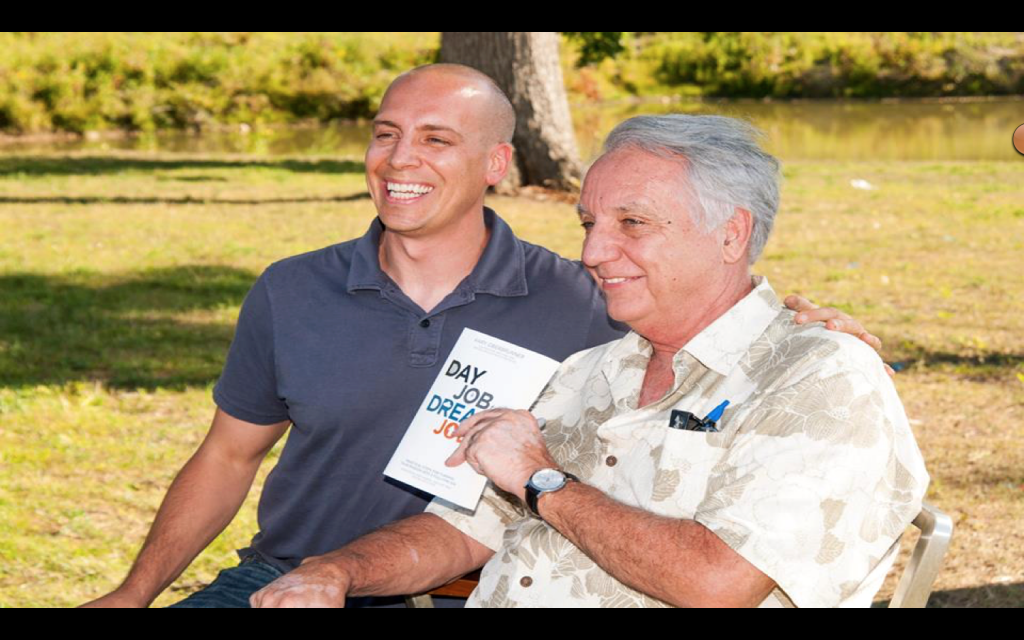 The event was picked in major media including the NY Times, the LA Times, and the Daily Mail, and hundreds of other blogs, podcasts, and media outlets.
I'd like to Help you
with your Bestseller
Rather than launch my next book —Elixir Project—in isolation, I'm inviting a select group of people to join me on an amazing journey for the next 6 months. Call it a mentoring experience.
I am pulling back the curtain and showing you exactly how I market and launch my book. You can use my same tips, tools, and tactics to market and launch your own book.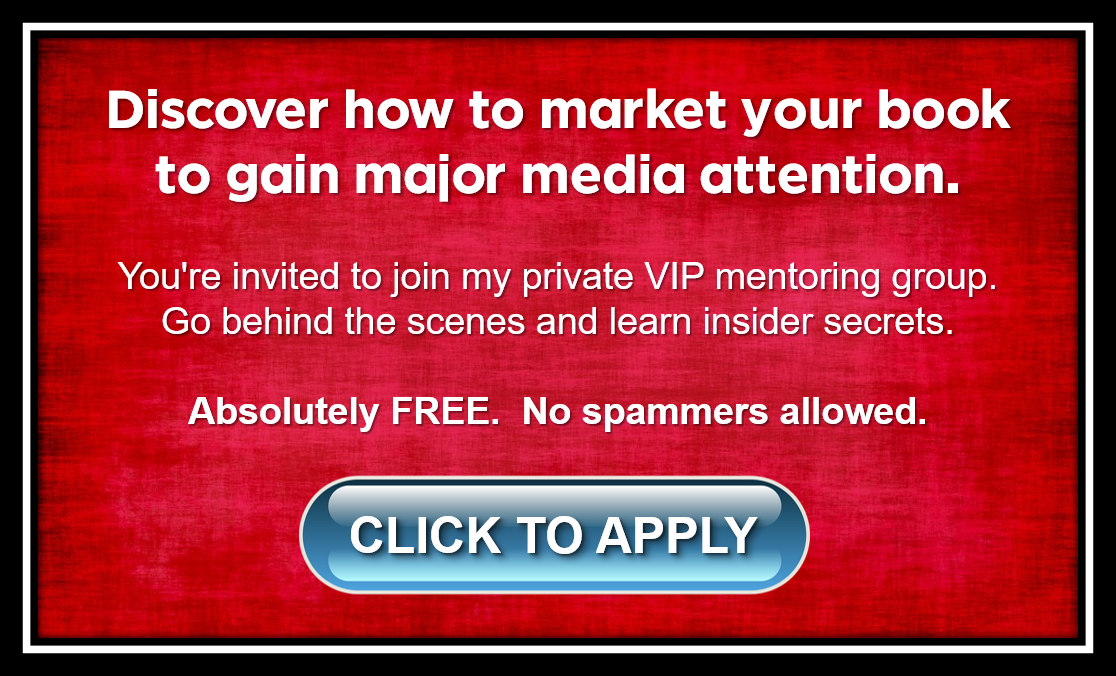 All approved members will receive
exclusive access to:
Behind the scenes coaching on how to write, publish, and market a bestselling book.
Detailed instruction on how to grow your own tribe and build your own platform.
Proven formula for how to successfully launch a book.
Step-by-step training for how to turn a book into a thriving business/ministry with follow-up products and services.
Transformational community with fellow world changers via private Facebook group.
Although it's absolutely free, we still require a brief application. This soft screening process ensures that we keep spammers OUT and good people—like you—IN.
Each day I give you incredible value that you can apply immediately.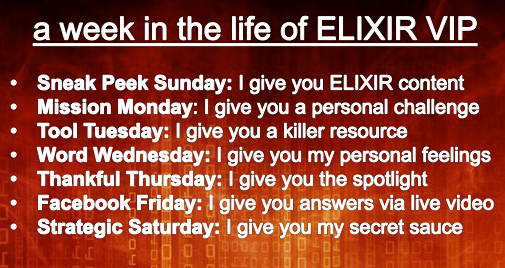 I've included a few examples of some of the rich content our VIP members receive on a daily basis, absolutely free.
SNEAK PEEK SUNDAY: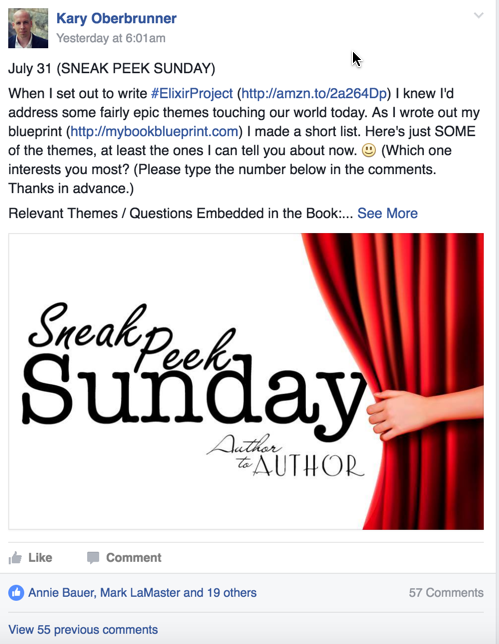 MISSION MONDAY: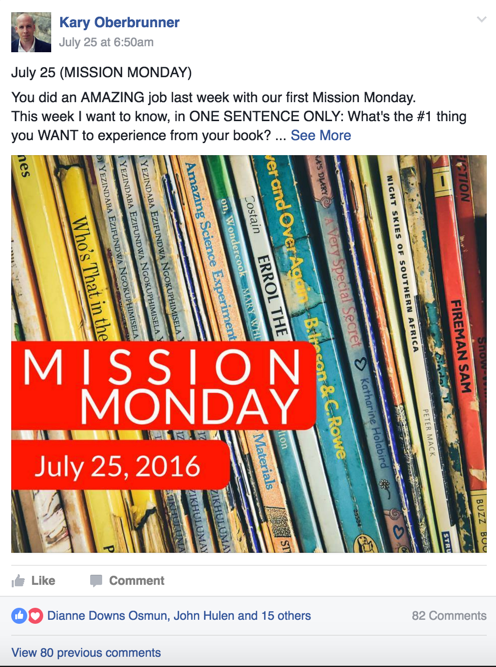 TOOL TUESDAY: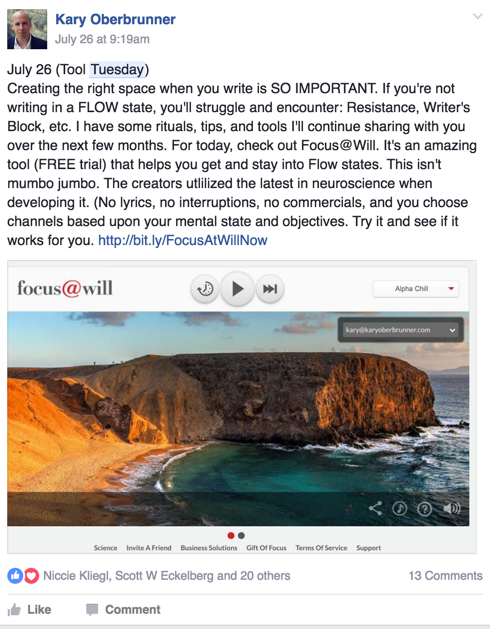 WORD WEDNESDAY: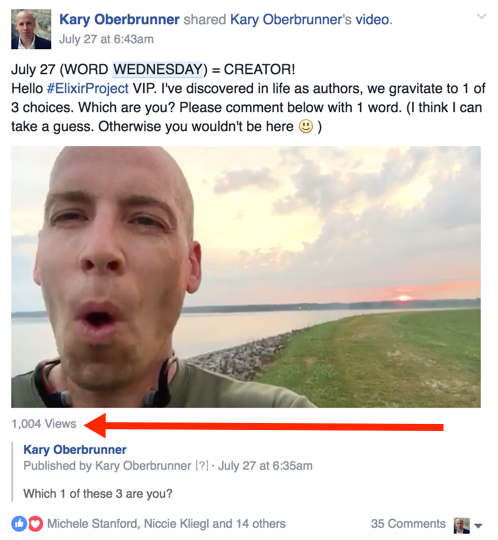 THANKFUL THURSDAY: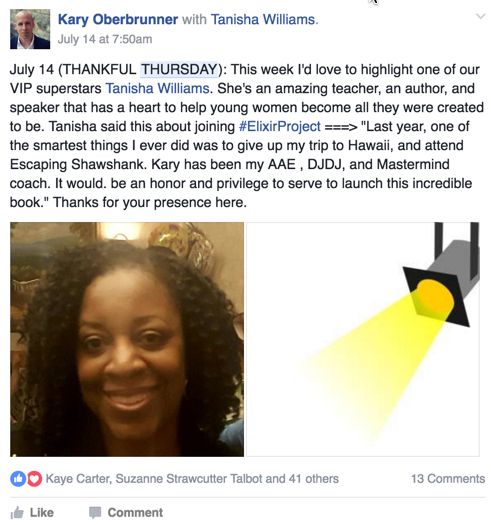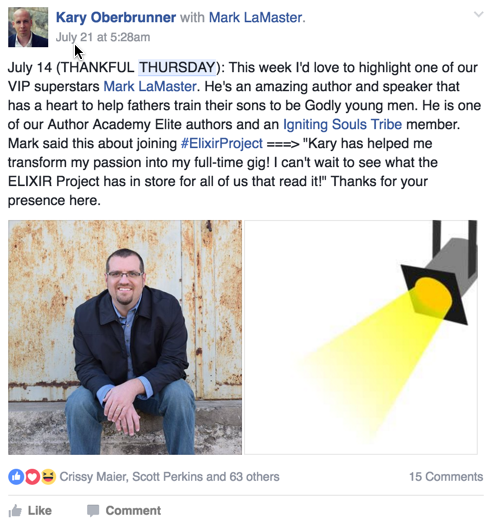 FACEBOOK FRIDAY: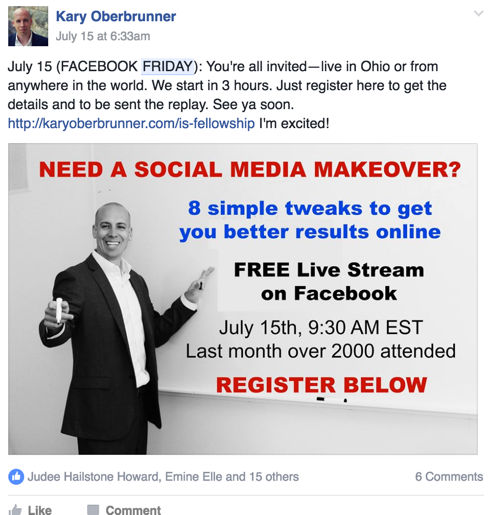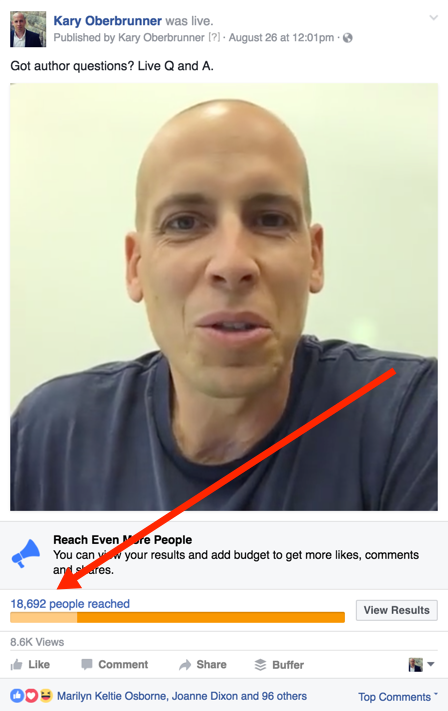 STRATEGIC SATURDAY: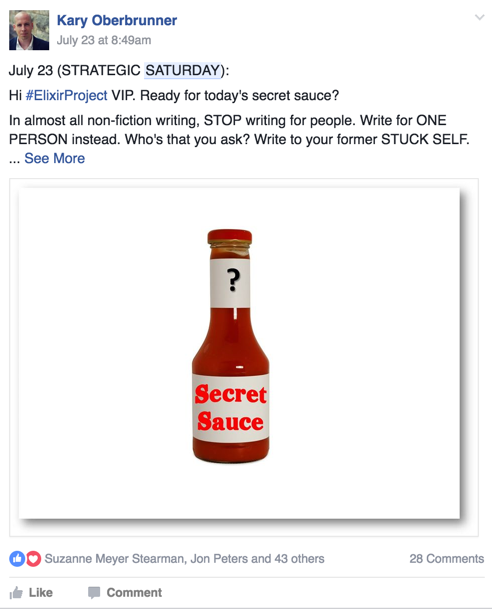 Sounds too Good to be True?
The party started on July 11th and already hundreds and hundreds of people joined the ELIXIR Project VIP Launch Experience.
Many people ask me why I'm doing this? Remember, I made a commitment to add value to our members on a daily basis for 6 straight months.
My goal in starting this is three-fold:
1. TO SERVE = Anything I do flows a heart of service. I'm committed to add value to like-minded world changers…like you. I count it a high honor and deep privilege to serve you.
2. TO TEACH = This book is one big experiment. I'm pushing boundaries and borders. I'm taking big risks in the areas of ideation, innovation, and implementation. I'm taking my 12+ year career in writing, publishing, and marketing and pushing the limits and the edges. I'm giving you a front row seat along the way.
3. TO MOBILIZE = My purpose is simple: Igniting Souls. And my moonshot is epic: ignite one million souls by 2020. Bottom line, I can't do it alone. Throughout history whenever a tribe of people bonded together and banded together for a common purpose, the world was never the same. I created this group for Souls on Fire who are crazy enough to change the world.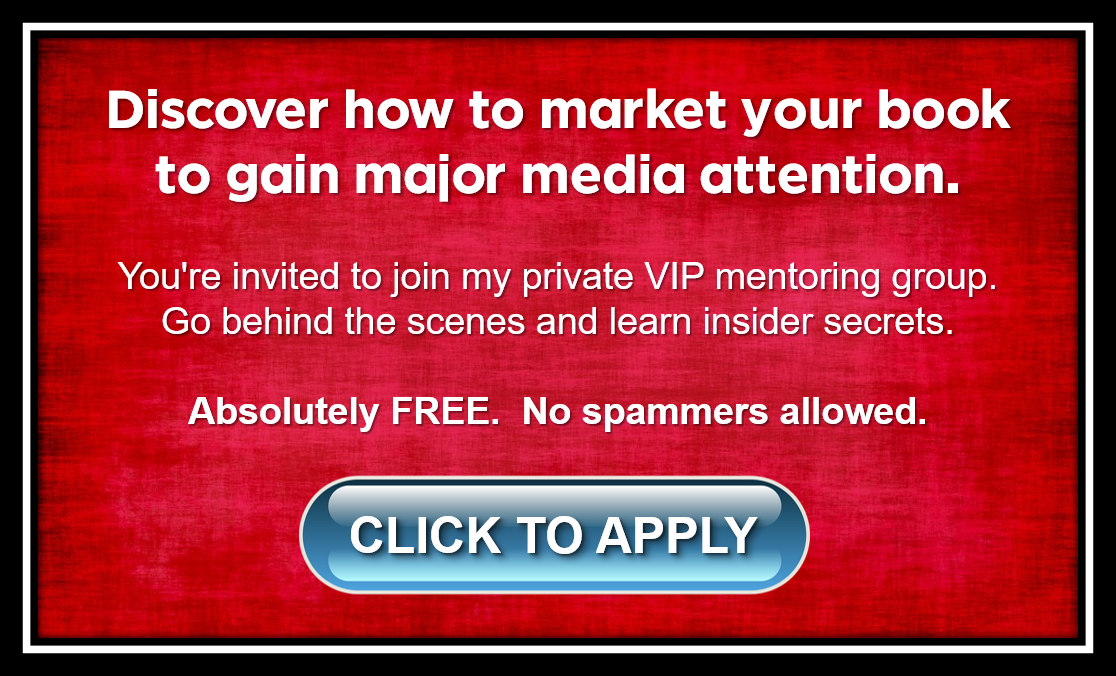 Many VIP members ask me
how they can help
I'll warn you up front, our VIP members are some of the most amazing people on the planet. And once our VIP members sample the value within the group, they get excited about the book, the launch, and the content
(ELIXIR Project is young adult fiction. Whether you like this genre or not is irrelevant. The principles I teach are universal and work in all genres.)
Many have asked how they can give back. Although I refuse to accept any money for the private VIP group, I've told members about 4 small actions that are incredibly appreciated:
Read the book—or sample chapters—ASAP upon receipt.
Provide feedback and engage with us via Facebook.
Leave a review on Amazon / Barnes & Noble on launch date.
Help spread the word about the book (we'll equip you with tools to share).

So what are you waiting for?
That's one question I can't answer. Nothing fires me up more than helping brilliant authors write, publish, and market their amazing books. Like I said, the party has already started. Now, we're just waiting on you.
Click HERE or on the pic below to fill out the simple application.
I hope to see you soon and I look forward to investing in you and your book. 
———–
PLEASE COMMENT BELOW: I'd love to say hi to you. Let me know where you're from.